I am collecting "censored!" screens from different countries. Thanks to the sleuthing of Jacob Appelbaum, I've got two more for you. When you're not allowed to see something online in Qatar, you get redirected to this site:
(Click for larger.) As opposed to most of the other "blocked site" screens, you don't actually have to be in country to see this, just go to http://www.censor.qa/.
Next up, Bahrain: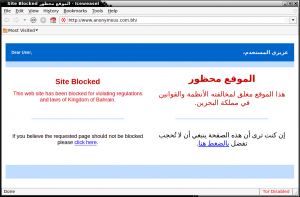 Lest the Westerners in the audience get the impression that blocking internet access is all about silly little theocracies in the desert, note that Australia just passed an internet censorship law. The blacklist is secret. Stay tuned for "What Internet Censorship Looks Like in Australia"!