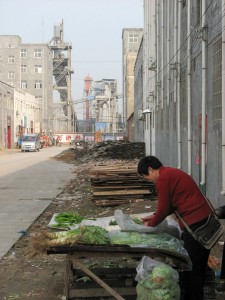 The village of Kangzhuang, in Henan Province, China, was built in 2006 next to the Tianrui cement factory (in background, above), to house villagers relocated after the government bought their land. A huge grey cloud of dust hangs permanently over the village. The villagers told me that the factory is shut down for a day or two whenever air quality authorities come to visit, then started up again as soon as they leave.
I visited Kangzhuang on another story. But eating dinner that night, covered in a film of dust, I suggested to a Chinese colleague that this issue of cheated environmental regulations deserved to be investigated further.
"That's not news," she said. "That happens all over China, every day."
And she's right: it's not news. All chronic problems fade from attention, and old news won't interest (most) readers, or sell papers. But we're leaving the paper era, and this changes things. In the web era, documenting old, marginal, or incomplete stories is much more valuable — and much more affordable — than it used to be.
There has been much discussion of how web writing style must differ from paper writing style, but the difference in medium also changes what stories can and should be covered. Despite its physicality, paper is a deeply transient medium. Yesterday's newspaper lines birdcages, but yesterday's web stories will be showing up on Google five years from now. An editor selecting stories needs to be thinking about not only tomorrow's page views but next year's as well, and also, crucially, how the story will function in combination with stories from other outlets. There are close ties here to the concept of stock and flow in journalism, and the new-media notions of topic pages and context.
I ran into this paper-web cultural divide discussing a pitch for a story about the number of civilian casualties in the Iraq war. I had done a little bit of new reporting on the topic, but mostly I just wanted to write a thorough summary of the various estimates and a careful, clear analysis of how reliable each might be. An editor friend said that, since the studies I would be referencing were several years old, this wasn't news and would be hard to sell to the outlet I was proposing; I said that I was planning to write an authoratative article on a topic of great international concern for a general audience, a piece which doesn't really exist yet. I felt that this would be exactly the sort of public service that journalism is supposed to be, and further, we'd have a good shot at getting in the top five results on Google.
We clearly had somewhat different conceptions of what stories count as publishable journalism, which seemed to be derived from our focus on different media.
Not only is the web a permanent medium, it's a distributed, accessible-from-anywhere medium (unless your government doesn't want you to know about certain things, but there are ways around that.) A single report of environmental cheating at a cement factory is not going to change anything for the people who will get sick from cement dust, but hundreds of such reports all over China might. If editors, used to selling papers, think of stories as throwaway consumables rather than careful additions to a permanent store, they miss opportunities for collective action.
But how to fund such long-term, speculative projects? After all, every story costs money to produce. I think part of the answer lies in another medium-driven difference: the web is more amenable to journalism of different levels of quality and completeness. The New York Times aims to be "the paper of record," which means it hopes always to tell the full story, and to never get a fact wrong. On the web, this is ridiculously inefficient. As a social medium, the web draws power from collaboration and conversation — say, between different papers in different places — and that process is severely hindered if only "finished" work makes it online.
Yes, there will always be a need for the authoritative voice and the carefully edited, sub-edited, copy-edited and fact-checked article. But what about all that other good stuff that journalists produce in the course of their work? What about the juicy trimmings that had to be cut from the main story, the tantalizing leads that the reporter hasn't had time to follow up, and the small incidents that have meaning only in aggregate? The web demands that we put more online than we would publish on paper, and provides a place for information of all grades. In this new medium, amateur journalists (such as bloggers and thoughtful commenters) are often much more adept at creating value from information by-products than their professional peers. News organizations will have to find forms for publishing unpolished information, such as the beat blog.
The report of environmental malfeasance in Kangzhuang is not yet a story. It hasn't been checked against other sources, we haven't heard from the local government ministry about whether they did a proper environmental study prior to putting 2,300 people next to a factory, and anyway the journalists who visited the town (myself among them) are currently busy writing up an entirely different story. But this tidbit deserves to be aired in a public place, so that others can build on it in the future. This is a valuable public service that could be provided for low cost, a service that is possible only on the web. Will an industry trained in the paper era see this possibility?