One of my friends has helpfully pointed out that today is World Toilet Day. According to the World Toilet Organization, fully 40% of the world's people do not have access to proper sanitation facilities.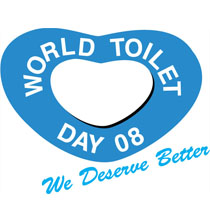 We do deserve better; I for one don't particularly enjoy squatting in the bushes. The World Toilet Organization agrees, and sponsors World Toilet Summits and World Toilet Expos, "wherein all toilet and sanitation organizations can learn from one another and leverage on media and global support that in turn can influence governments to promote sound sanitation and public health policies." They also started the first World Toilet College, providing training in toilet design, maintenance, school sanitation, disaster sanitation, and implementation of sustainable sanitation systems.
Okay, you can snicker now. I know I am.
This would be even funnier if it wasn't actually serious — human waste is a major disease carrier if not handled correctly, and an awful lot of people are still just pooping on the ground or in the river. But let's not dwell on negatives; in the carefree spirit of World Toilet Day, I thought I'd briefly discuss, and show some pictures, of the types of toilets I've encountered in various parts of the world. Travel yields many surprises, and, astonishingly, there were places where I had to learn to wipe my ass all over again. ("Don't you know how to use the three seashells?" indeed.)