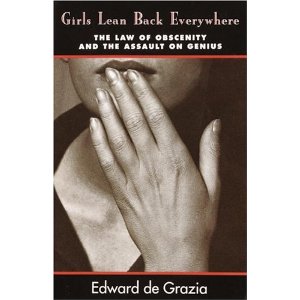 I recently finished reading Girls lean back everywhere: The Law of Obscenity and the assault on genius, which is a history of American literary and artistic censorship by a lawyer who argued some of the seminal cases before the supreme court, Edward de Grazia. It's hard to imagine today how delicately sex had to be treated in early 20th century American writing, lest the author and publisher land before a court. This book documents the long legal shift to the freedom that authors enjoy today, where every Borders has a well-stocked "erotica" section. And it really was a long shift — the protagonists in this story fought over decades, one incremental advance at a time, and knew they were doing so. That is, for me, the biggest lesson.
In 1921 James Joyce's Ulysses was banned in the US, and its publisher criminally prosecuted, for writing that now seems tame. There aren't even any dirty words in the passage that caused the most uproar; it's just a girl leaning back to watch the fireworks, leaning back to show more and more of her stockings and garters and underthings to a man she fancies, and it's poetic as hell.
A few decades later Allen Ginsburg's Howl landed the poet before a judge. Books by D. H. Lawrence, William Burroughs, and — my personal favorite — Henry Miller were also banned as obscene at one point or another. All of these works are free today, but it took decades of legal battles.
At first, there were many subjects that simply could not be talked about at all. One of the very first novels to deal frankly with lesbianism, Radclyffe Hall's 1928 The Well of Loneliness, contained no sex at all other than the sentence "and that night, they were not divided" but was ruled obscene because it depicted "inverts" in a positive light. But even heterosexual sex was illegal to depict, if the writing was sufficiently explicit.
All of this gradually changed. By the mid 50s, American judges had ruled that discussion of sex in itself was not obscene. In 1964, de Grazia defended Miller's Tropic of Cancer and the Supreme Court ruled that any work "not totally without social value" could not be held obscene. This decision effectively freed the written word entirely, and in subsequent decades, plays and photographs and films would be freed to.
But it took 80 years.
And that's what struck me most: deep social change takes a long time. The book is a legal history, so it is full of the arcana of American obscenity legislation and long-forgotten legal tactics. But these excruciating details show that the players took a deliberately long view in many cases. Their game was played out over decades. Also, the conflict wasn't anything so simple as authors versus cops; this is not an underdogs vs. establishment story. Judges played a pivotal role in the freeing of artistic speech, particularly supreme court Justice Brennan who patiently transformed the law, piece by piece as the appropriate cases arose, over almost 20 years. The opposing villains, if they can be called that, included conservative politicians, state prosecutors, and citizen pressure groups.
I think of this now as I ask the question: how do societies change?