Jakarta malls are strange places. They're islands of air conditioning in a town of near-slums. They're the only thing to do if you have any money in this deeply unequal town. They have laughing Santas and Starbucks and skin whitening cream. I find them deeply disturbing.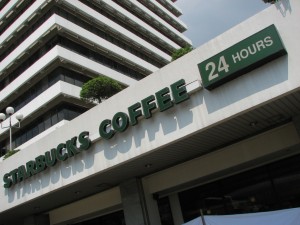 At Christmas, all the malls had decorations in them. It was a big thing. Little Muslim children lined up to sit on Santa's lap. Whenever I asked, people shrugged and told me that Christmas wasn't really about religion in Jakarta.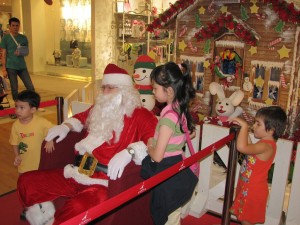 On Friday nights, the malls are packed. The fashionable kids, speaking a mixture of English and Indonesian, flood the white marble floors. The malls have very loud music, and sometimes DJs.
The malls have food courts in them. Just about everything is meat, and just about everything is fried. All the American fast food chains are there. They look like food courts anywhere.
A burger and fries costs about 40,000 rupiah, which is US $4.50. This is very expensive food in Jakarta. The people who work in the mall do not eat in the food court. They eat in the "kantin" out back, a long shack full of traditional food stalls where a meal is five times cheaper. Average income in Indonesia is about $350 per month.
Malls are not for the rifraf. There's nowhere to sit unless you're buying. Otherwise everybody would hang out there, because it's clean and comfortable and smacks of status. You can't sit on the floor either. Malls are for the middle class, but the middle class is the elite in Indonesia.
Malls have security theatre, because Jakarta has had bombings. Their entrances are guarded by metal detectors. Bored guards check your bags by patting them carelessly, and ignore the metal detectors when they beep. Other guards wave metal detectors uselessly over the truck of each taxi. You can bypass the guards in almost every mall by walking in through one of the shops.
You can also largely ignore security if you're white. Sometimes it seems like everybody wants to be white. Every pharmacy in Indonesia sells skin-whitening cosmetics. Actually, this happens everywhere in Asia. Maybe it's because white people are rich.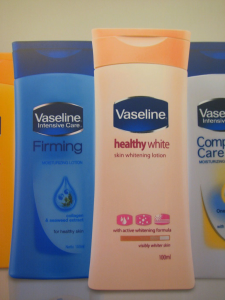 I spent a lot of time in Jakarta malls. They were comfortable, the food was recognizable, and they had wifi. The blandness depressed me, because I've lived in environments that weren't built for profit. But in Indonesia — and Malaysia, and Turkey, and India, and China, and a great many other places I've been — malls represent the future. They're clean and efficient and astonishingly modern. It makes me sad that consumerism is the vanguard of civilization for so many people.