Come, my fellow information geeks, and gather 'round the glow of monitors. The world is changing (it's the internet) and the way we learn things is changing too. The blogosphere is blooming while journalists are being laid off. Is this good? Is this bad? I've spent far too much time trying to understand how everything is shifting.
And now you too can waste your time in learning! Here are five videos about journalism, blogging, tweeting, collecting and sharing information, and how stuff is generally changing. In no particular order:
1. "The Arab World on the Front Edge of Media", by Moeed Ahmad, head of New Media for Al Jazeera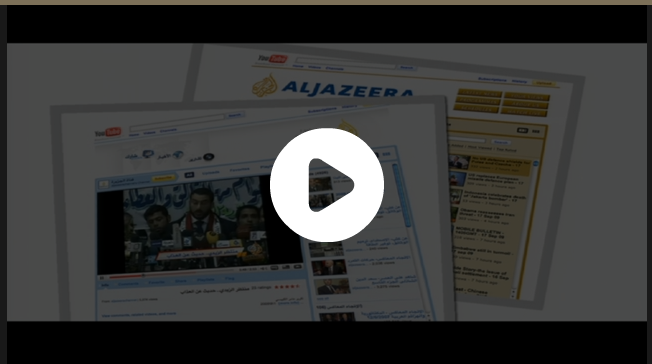 Figuring out which tweets from the Iranian protests are true. Tracking falling bombs in Gaza using SMS and open-source mapping mash-ups. Releasing war footage under Creative Commons licenses. Moeed has a seriously interesting job, and speaks with great eloquence about how his small new media team fits into a huge global news organization.
2. Clay Shirky and Alex Jones discuss the catastrophe of lost newspapers
There is a strand of thought that says democracy is screwed because the newspapers are going away. Basically, newspapers are responsible for a huge fraction of the of the world's factual news reporting, and their business model just exploded. Paper is going away, but online advertising is only about 10% as lucrative because there's much, much supply. Shirky does an amazing job explaining the economics of what's happening, and why he thinks it's a problem. You can find similar content in his famous March 2009 article, "Newspapers and Thinking the Unthinkable," if you don't want to sit through the hour. Either way, Clay is not an optimist.
3. Jay Rosen speaking… somewhat… slowly… about how bloggers gain trust online.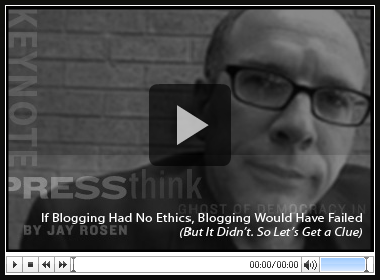 The talk is called "If Bloggers Had No Ethics Blogging Would Have Failed, But it Didn't. So Let's Get a Clue" (text version.) He begins with a nifty introduction about the relationship between the "closed" newsrooms of traditional journalism and "open" journalism of bloggers. They're not the same thing, he says. They produce different products. And then much about "blogging ethics", which he defines as the practices through which bloggers gain the trust of their audience. In the spirit of the link economy, here I can do no better than blockquote a recent post from Blackfive. Rosen would have wanted it that way.
Here are his 10 key ideas for social media:

1. Audience atomization has been overcome. (Link)

2. Open systems don't work like closed systems. (Link)

3. The sources go direct.  (Dave Winer)

4. When the people formerly known as the audience use the press tools they have to inform one another— that's citizen journalism. (Link)

5. "There's no such thing as information overload, there's only filter failure." (Clay Shirky)

6. "Do what you do best and link to the rest." (Jeff Jarvis)

7. "Half the money I spend on advertising is wasted; I just don't know which half." (John Wanamaker)

8. "Here's where we're coming from" is more likely to be trusted than the View from Nowhere. (Link)

9. The hybrid forms will be the strongest forms. (Link)

10. "My readers know more than I do." (Dan Gillmor)

Bonus notion: You gotta grok it before you can rock it. (Link)
4. Jeff Jarvis on New Business Models for Journalism
This presentation is awfully pretty. And it needs to be, because he's speaking about a lot of numbers. He assumes that the traditional city newspaper collapses. Can an ecosystem of blogs plus a "New News Organization" sustain a profitable business? He runs the numbers, and releases the spreadsheets openly at newsinnovation.com. Bottom line: an online ad-supported news ecosystem does seem financially viable, employing about the same number of journalistst. It just won't look anything like a traditional newspaper, and will operate on 10%-15% of current newspaper revenues (and employ many fewer people).
5. The Yes Men throw a pretend press conference, dressed as the American Chamber of Commerce
I adore The Yes Men for keepin' it real. Here they pretend to be the US Chamber of Commerce, reversing their position on global warming (saying that Chamber now thinks it's real.) A guy from the real COC bursts in half way through, and hilarity ensues. The best part is, Fox News ran the story on air, before quickly correcting it.
I'd like to thank The Yes Men for reminding us that mainstream journalism lacks appreciation for the absurd. Online media doesn't. That would certainly explain the success of Gawker, anyway.